Kansas Speedway (1.5 miles, Intermediate, tri-oval) in Kansas City, Kansas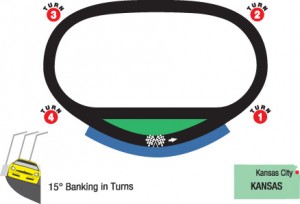 The Kansas Speedway is located in the USA in the west of the two divided by the Missouri River city of Kansas City, whose eastern part is the state capital of Missouri. Sounds complicated, but it also means the following: Because of the proximity to the Speedway, Carl Edwards, Clint Bowyer and Jamie McMurray can call this race as their home race. In Kansas, the NASCAR guested 2001-2010 only once a year on the slimmest 1.5-mile oval in the entire calendar. Since 2011, a second time on the track with a 15 ° curve superelevation, which is quite unique among the "cookie cutter Speedway" down.
Although the oval also has a D-shape, but is less round and inflated as his sister route in Chicago, but both race tracks are comparable with each other pretty well, according to drivers and teams. The start and finish line in Kansas is rounder and more comparable to the 2-mile ovals. This contrasts with the otherwise more conventional 1.5-pile of Speedway Motorsports Inc, such as Texas or Atlanta. These routes are on the start / finish straight "square" and also designed flatter.
13.953 total views, 7 views today