Indianapolis Motor Speedway
Indianapolis Motor Speedway (2.5 miles, Intermediate / Super Speedway, Rectangular) in Speedway, Indiana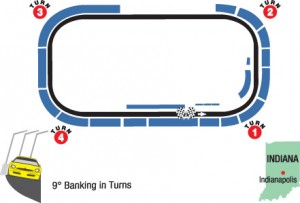 Since 1994 is run once at the Indianapolis Motor Speedway in the year, the otherwise almost exclusively belongs to IndyCars. The track itself is for NASCAR ratios a little unusual, because with 2.5 miles Indy is, by definition, actually a Super Speedway. However, the Banking with 9 ° 12 'not steep enough to reach speeds of over 150mph in the corners. While you drive on the two long straights with more than 200mph, but omitted the NASCAR in Indianapolis on the usual "restrictor plates". 160 rounds is therefore the distance on the 400-mile race. 1996 began the tradition that the winner of the race the legendary "yard of bricks" kisses. Dale Jarrett could even make a "ceremonial" from NASCAR to the IndyCar with this action.
But other issues are worth mentioning: 1998 repeated Jeff Gordon was the first driver his victory, he even added two more in 2001 and 2004. 2004 also was the very first Cup race at all, which saw a "green-white-checker finish". In this extra round Jeff Gordon went to the leader Mark Martin (blowouts) and Dale Earnhardt Jr (engine damage) by which, curiously, both came into problems. In 2007, Juan Pablo Montoya, the first driver who had participated in all three major races in Indy, namely before the Indianapolis 500 and the Formula 1 Grand Prix of the United States. 2008 was a tire as Chaos race in the story where the rubber had rubbed off within ten laps up on the carcass and therefore numerous "competition cautions" had to be proclaimed. Goodyear managed 2009 remedy, because there have been seven whole tire tests carried out so that the like is not repeated. In the said year then succeeded almost Montoya's first oval victory in NASCAR, but a speeding in the pit lane made all dreams to naught.
Although NASCAR does not publish the number of spectators, but go all observers believe that the first edition of 1994 as many fans as never before visited a Cup race. To date, Indy Leader is in the audience. The premiere also brought up at the time the highest prize money for a win, because Jeff Gordon got with 613,000 USD more than twice as much premium as the Daytona winner of the year, Sterling Marlin. Meanwhile, Indy and Texas, however, share the second place after the season climax, in which there is with invested $ 1.5 million now to win more than three times as much again. The more than $ 500,000, however, make sure that the winner receives as much attention as the Daytona 500 winner. Jeff Gordon could sharply boost its reputation after the victory in 1994.
24.819 total views, 11 today views